Hymer Edition1One ML-T / B-MC I / B-MC T
Aanwezig in showroom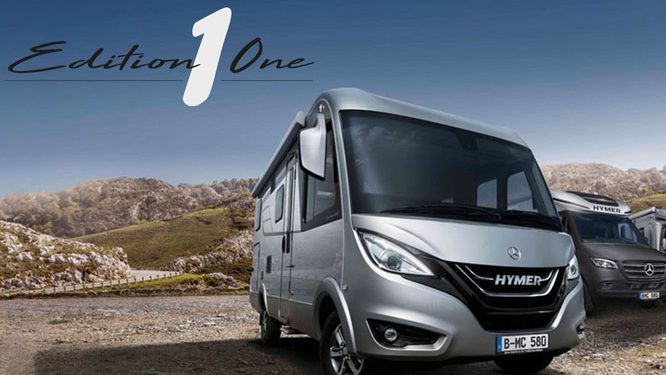 Beschrijving
Exterieur & opbergruimte
Interieur
Indelingen & techniek
Basisuitvoering
Beschrijving
Exterieur & opbergruimte
Interieur
Indelingen & techniek
Basisuitvoering
Edition 1 One is een speciale camper waarvan er maar 150 stuks zijn gemaakt
The Hymermobil B-Class ModernComfort and HYMER ML-T are truly something special. From the advanced Mercedes-Benz assistance systems and the bodywork without any thermal bridging to the tasteful and luxurious interior – with a HYMER vehicle, you're guaranteed to have an exclusive companion on your side.
Having said that, there are a few models in our fleet that are even more exclusive: the Edition1One special models. You have the opportunity to buy a HYMER ML-T or one of two Hymermobil B-Class ModernComfort models featuring the one-of-a-kind SLC chassis right now, and if you do so, you'll get your hands on one of only 150 numbered and limited Edition1One vehicles. You'll get the Edition1One equipment package at a special price and receive your HYMER sooner than anyone else.
All the benefits of the exclusive Edition1One optional extras:
3.5-ton class
For a motorhome weighing up to 3.5 t, you are good to go with a Class B driver's licence. The vehicle is treated just like a car when it comes to speed limits, traffic regulations, tolls and vehicle tax.
All Edition1One special models can carry 4 passengers
Limited Edition
Sofort kaufen, sofort verfügbar!

Exclusive bonus:
The exclusive Edition1One key ring.
Kenmerken
| | |
| --- | --- |
| Merk & type | Hymer Edition1One ML-T / B-MC I / B-MC T |
| Merk chasis | Mercedes |
| Soort | Half-integraal |
| Gewichtsklasse | 3.500 - 4.500 kg |
| Maximaal aantal slaapplaatsen | 4 |
| Lengte | 6.98 - 6.99 m |
| Breedte | 2.22 - 2.29 m |
| Hoogte | 2.90 - 2.96 m |
---
---
Hymer B-MC T/I 580 "Edition1One"
Basis / Chassis
Mercedes-Benz Sprinter 318 CDI, 130 KW / 177 HP, Euro 6c
9G-TRONIC automatic trans-mission, 9 speed, incl. Hold Function
ECO start/stop feature
Cruise control (Mercedes) including steering wheel multifunctional keys
Semi-automatic TEMPMATIK climate control
Leather steering wheel
Exterior finish: Crystal Silver Metallic (B-MC I only)
Exterior cab finish: Tenorite Grey (B-MC T only)
Exterior body finish: Crystal Silver Metallic including painted alcove (B-MC T only)
16″ original Mercedes Benz alloy wheels (silver) with all-season tyres
Chrome grill (B-MC T only)
Bumpers, attachment parts and grill frame in vehicle colour (B-MC T only)
Reinforced front axle
Limited edition model
Interior / Living area
Cab door with power windows and entry illumination (B-MC I only)
Mosquito net blind on habitation door
Panoramic roof light above cab, manually hinged (B-MC T only)
Cab blinds (B-MC T only)
Comfort L-shaped seating group with lounge upholstery
Textile leather combination with Edition1One embroidery in the seating area
Four cushions with hounds-tooth pattern for living as well as bedroom
Additional cushion for an extra berth incorporating the driver's seat (B-MC T only)
Ambient lighting including plinth lighting and light highlights
Sleeping system with cup- slatted bed frame for rear beds
Additional cushion between the rear single beds incl. integrated Comfort step and tray
Wooden shower slats
Multimedia
Mercedes MBUX 10.25″ Multimedia System incl. SatNav with steering wheel multifunctional keys, DAB, Touchscreen as well as reversing camera
Flat screen bracket
32″ LED flat-screen TV with built-in speakers, remote control, DVD drive and HYMER Smart Multimedia System with Bluetooth
Additional sockets: 5x 230 V / 3x 12 V / 2x TWIN-USB incl. kitchen wall panelling
Hymer ML-T 580 "Edition1One"
Basis / Chassis
Mercedes-Benz Sprinter 416 CDI, 120 KW / 163 HP, Euro VI-D
7G-TRONIC automatic trans-mission, 7 speed, incl. Hold Function
ECO start/stop feature
Cruise control (Mercedes) including steering wheel multifunctional keys
Semi-automatic TEMPMATIK climate control
Leather steering wheel
Exterior cab colour: Tenorite Grey
Exterior body finish: Crystal Silver Metallic including painted alcove
16″ original Mercedes Benz alloy wheels (silver) with all-season tyres
Chrome grill
Bumpers, attachment parts and grill frame in vehicle colour
Reinforced front axle
Limited edition model
Interior / Living area
Mosquito net blind on habitation door
Panoramic roof light above cab, manually hinged
Cab blinds
Comfort L-shaped seating group with lounge upholstery
Textile leather combination with Edition1One embroidery in the seating area
Four cushions with hounds-tooth pattern for living as well as bedroom
Additional cushion for an extra berth incorporating the driver's seat
Ambient lighting
Sleeping system with cup- slatted bed frame for rear beds
Additional cushion between the rear single beds
Wooden shower slats
Multimedia
Mercedes MBUX 10.25″ Multimedia System incl. SatNav with steering wheel multifunctional keys, DAB, Touchscreen as well as reversing camera
Flat screen bracket
32″ LED flat-screen TV with built-in speakers, remote control, DVD drive and HYMER Smart Multimedia System with Bluetooth
Additional sockets: 5x 230 V / 3x 12 V / 2x Twin-USB incl. kitchen wall panelling
Fotogalerij Hymer Edition1One ML-T / B-MC I / B-MC T